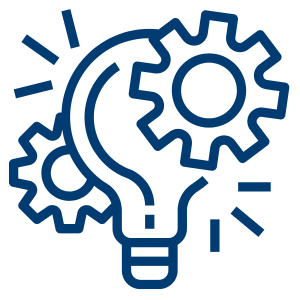 At Secur-Serv, we're more than just a managed services provider. We're your trusted partner in technology transformation, with a security-first mindset at the core of everything we do. Our team members are dedicated to conducting business transparently, honestly, and ethically, and we take pride in being socially responsible corporate citizens. By leveraging our deep expertise and innovative technology, we empower our clients to transform their business achieve their objectives with confidence.
What Makes Secur-Serv Unique
Our People
Our employees are our most valuable asset—investing in training, and development ensures you receive the best possible support
Technician Expertise
Over 3,000 field service technicians in local markets who consistently exceed expectations on client reviews
Security-first
Security is at the core of every service—prioritizing our clients' data, systems, and device security above everything else
One Source
One call, one provider for managed print, device, IT, and cybersecurity services with an unmatched depth of expertise
Expertise Expanded
In 2022, Scantron Technology Solutions (STS) acquired ServRight, expanding our device and on-site technician capabilities. As a division of Scantron Corporation, Secur-Serv is focused on helping businesses find solutions to all their IT problems – from resource gaps to technology solutions.  Today, we have transformed into a full managed services provider with over 35 years of expertise.
Founded in Excellence
As a division of Scantron Corporation, Secur-Serv is a managed services provider with a rich history in Omaha, Nebraska dating back over 35 years.
Today, Secur-Serv is one of the largest managed services providers in the nation. We offer the latest technology solutions and cybersecurity services, providing fully outsourced or augmented IT Support, enabling businesses to focus on their core business.
Our team is dedicated to delivering reliable and personal service that exceeds our client's expectations by providing modernized IT solutions and cybersecurity services that accelerate positive change in their business.
Lead by Excellence
A top-down, employee-first leadership approach fosters a culture of innovation and excellence, enabling us to deliver superior service for your business.