Device as a Service is the Future
Whether growing or downsizing, companies can pay for exactly what they need, when they need it. Organizations will no longer be stuck with obsolete hardware, especially as technological innovation continues to outpace the average life span of devices.  With Device as a Service from Secur-Serv, you have a single point of contact.
Because Secur-Serv is vendor-agnostic, you are not restricted to one manufacturer. DaaS encompasses all Secur-Serv-supported devices: laptops, tablets, PCs, servers, routers, switches, firewalls, printers, multi-function devices, and more.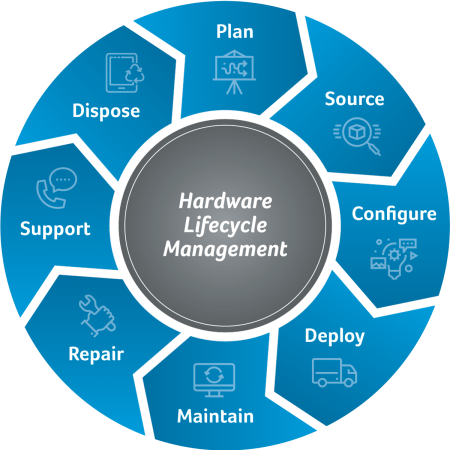 Device as a Service Business Benefits
As part of a larger digital transformation strategy, DaaS is a flexible option that enhances business agility.
Cash Flow Management
The DaaS model allows businesses to shift large IT budget allocations to more manageable cash flows over a planned period of time
Smart Outsourcing
Reduce the burden on internal teams and profitability by outsourcing costly IT requirements for PC support management
Mobility
Enhance your mobile workforce experience and reduce the costs associated with accommodating a "work from anywhere" workforce
Enhanced Security
DaaS-provided enabled security capabilities built for the business class with a range of protections and advanced threat detections
Scalability
Because DaaS is a subscription services, companies can quickly scale up or down based on current business need
Reduce the cost and complexity of device  management
The ongoing processes to manage and maintain devices can be complex.  This includes security policies, device configuration, repairs, warranty — and more.  Eliminate the time and expense of buying, configuring, and deploying hardware without sacrificing IT performance.
Secur-Serv Device as a Service (DaaS) combines hardware sourcing, deployment, support, and lifecycle services into one solution for a predictable monthly fee. Work with just one point of contact for all hardware needs, and free your IT resources to focus on initiatives that drive the business.