Update with Lexmark.
Optimize with MPowerPrint.
Buy or lease a new Lexmark device and implement a successful print management strategy.
Do your multifunction printers or standard laser printers leave you wanting more capabilities or better performance with enhanced security features? We've got your printer! The newest Lexmark printers are equipped with advanced security tools, installable security solutions, and improved performance tools.
When you buy or lease a Lexmark printer with Secur-Serv, your agreement will include MPowerPrint managed print services, including:
Expert strategy recommendations
Comprehensive management and optimization of your printer fleet
Onsite service
Just-in-time consumables replenishment
Cartridge recycling
Ongoing consultation and reporting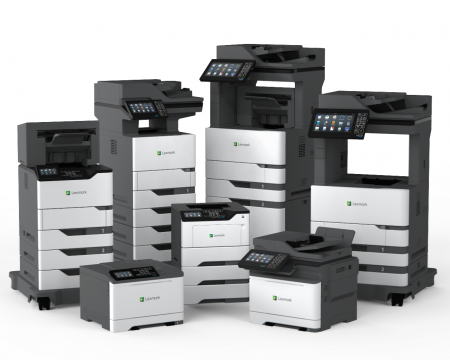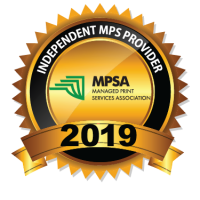 Modernize Your Print Strategy
Move out of reactive mode. Contact us to develop a sensible print management strategy for your company. Call 800-627-1044
Example Lexmark and Secur-Serv Customers
8 out of 10 global retailers are Lexmark customers.
Companies of all sizes and industries choose Lexmark devices and Secur-Serv Managed Print Services. Whether you have one multifunction device or hundreds, a single location or thousands, you can control costs, enjoy better performance and availability, capitalize on our just-in-time consumables, and relieve your in-house IT resource from reactive mode!
We place great faith in the dependability, security, and durability of Lexmark printers in stressful, high volume environments. These are just a few examples:
Transportation, Freight, Supply Chain & Logistics
Customer since 2011, nationwide locations
Support nearly 500 devices at 78 sites in USA

Lexmark printers and MFPs
Line and thermal printers
Regional Bank
Customer since 2012, regional locations
99 sites including corporate, back office and branches
566 printers currently on maintenance, including 150+ Lexmark units
Automotive
Customer since 2002, nationwide locations
1,071 sites
4,800+ printers including multi-function and label printers on maintenance

Nearly 3,000 Lexmark printers across all locations
Home Goods
Customer since 2005, nationwide locations
1,425 sites
Nearly 14,000 printers including multi-function, thermal label, lasers
Bottling and Food Service
Customer since 2007, nationwide locations plus Canada sites
130+ sites
1,000 printers including laser, line, and thermal
Why Choose Secur-Serv Managed Print Services?
Secur-Serv has over 3000 field service personnel delivering on-site maintenance and service to companies nationwide, providing personal service with a high level of customer satisfaction.
Secur-Serv developed MPowerPrint managed print services to deliver greater control, visibility, and security to businesses. MPowerPrint uses secure, state-of-the-art printer monitoring software that supports strategic fleet planning—each MPowerPrint engagement is customized to the organization's unique print environment.
With a strong focus on securing your thermal printers and network, Secur-Serv works with you to develop and manage your printer security strategy. Secur-Serv security experts help you identify vulnerabilities, prevent unauthorized access and prevent attacks. Learn more >>
Secur-Serv gives us the freedom and peace of mind to focus on our business rather than having to worry or troubleshoot time-consuming and frustrating IT problems.
So many companies in technology today have taken the human relationship side out of taking care of their customers. Secur-Serv has never done that and has stuck with its core ethical values. Thus, from following those ideals, they have retained us as a customer. I recommend them.
Secur-Serv responds very quickly to any issues that may occur. The service has been spot on to what we were looking for in an IT partner.
We evaluated other local solutions. TrulinX suggested Secur-Serv and we have been extremely satisfied with their service. They are prompt in their response and their service, both remote and on-site, is fantastic. This is one area of our business we can hand off and know it will be taken care of.
Secur-Serv helped us reconfigure our network to meet our current and future needs. They now install and monitor our system updates and virus scans so we can focus our time and energy running our business. I highly recommend Secur-Serv.
Our company was having difficulty keeping pace with our growing IT needs. We were spending too much time and energy working to resolve our network issues. Secur-Serv helped us reconfigure our network to meet our current and future needs. They now install and monitor our system updates and virus scans so we can focus our time and energy running our business. I highly recommend Secur-Serv.
The support and commitment that Secur-Serv provides ensures confidence in our infrastructure.  Helping to reduce the risks of system errors and security threats. They are a partner with employees dedicated to the customers needs.
We couldn't be more satisfied with Secur-Serv. They are easy to work with, from call placement through call closing. We can call their 800 number to speak to a real person!
Never have we had quicker response times to issues. Never have our first contacts been with people who can regularly solve the issues themselves without having to escalate. Whatever you do to develop such a high level of service should be studied and emulated.
The consistency of support has been outstanding and every call has resulted in a first-time fix. Excellent, friendly, willing to help, from implementation to set up, from the helpdesk to the account executive.
For us, it was a no-brainer. We'd free our IT staff to get back to the work that adds value to our company, and we'd reduce printer downtime and the last-minute rush to get toner where it needs to go. The service is consistently so outstanding that we don't hear much about it. They respond quickly and they get the job done.
I think the most important piece is that when we call and say we've got a problem, it's usually fixed within a day or the next day. They have a complete and total knowledge of what's going on here. The amount of knowledge in that call center is pretty extreme.