Improving customer experience is more than a component of a corporate strategy; it is a culture of continual transformation with the customer at the forefront. Our IT support staff wanted to deliver the person-to-person interactions of a small company while delivering enterprise-scale managed services company's cloud, security, print, and hardware life cycle solutions. The pod service delivery model supported this vision and is the first step in moving away from transactional-based service toward enhancing product focus and collaborative environment.
What is a Secur-Serv Service Pod
Over the years, the pod service delivery model has grown popular among managed services providers. A pod is a team with blended skills responsible for managing end-to-end service and support for Secur-Serv customers. Each pod is built with specific skills, knowledge base, and tools to ensure best practices and quality are met with every service interaction.
The initial Secur-Serv pods are created based on industry, company size, and specialty in the pilot phase. For example, engineers and technicians in our Financial Industry pod are familiar with the regulatory and compliance concerns banks and credit unions experience today. They are also in tune with the cybersecurity demands and stay up to date with the latest cyberactivity threatening banks and credit unions. This deep understanding by the Secur-Serv IT support staff translates into specialized service delivery to our FI customers.
This type of agile service structure allows our service to evolve and effectively support our growing customer base. Because each pod is strategically staffed, it will enable our staff to learn together, fail fast, accelerate service delivery to our customers, and truly become an extension of their IT team.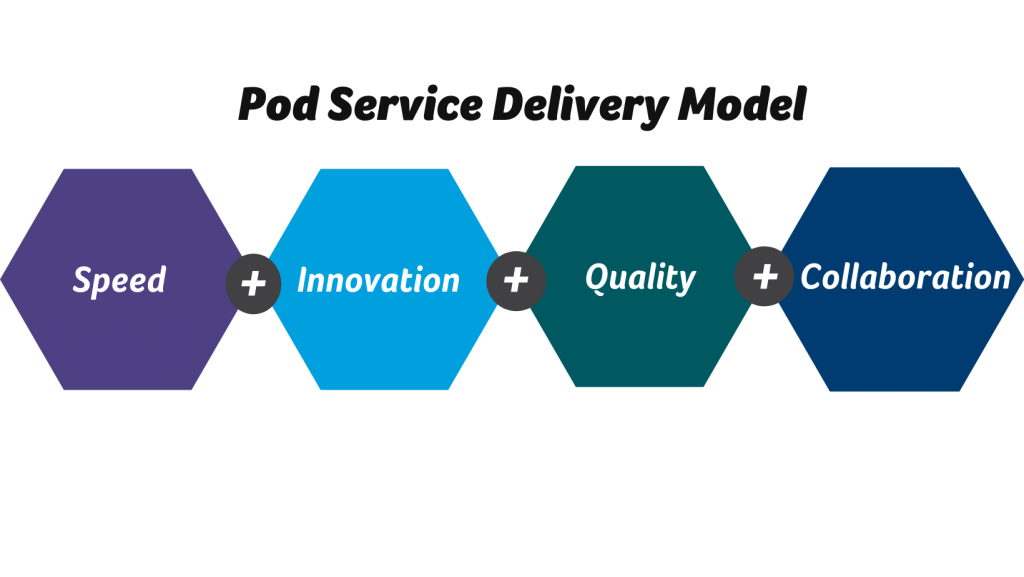 How Pods Improve the Customer Experience
The pod design is constructed to allow Secur-Serv IT support staff to move out of a departmentalized service structure and take a holistic service delivery approach. Even though pod service delivery models are standard in the managed services industry, Secur-Serv has made it their own by adjusting the methodology based on our customers. Our customers will experience quicker response times when they contact us, consistent service delivery, and a more consultative approach to their technology ecosystem.
Customers will not be restricted to a single support pod. For example, if a financial institution has an issue that a specialty pod supports, like Office 365, those two teams will quickly deliver the resolution to the customer. It is the best of both worlds, and the customer benefits.